The Cell Phone Tower Machine Room Advanced Temperature Control Unit project requires a way to simulate a full-blown air conditioning system. This is obviously not possible in my home office setting – although Ron, my boss and partner in this endeavor, has a full test system in his shop!
My clever solution was to devise a Thermoelectric Peltier Device Air Conditioning Equipment Simulator!
The control signal from the Advanced Temperature Control Unit drives a little 12-volt setup that drives one of two Peltier Devices. When the Advanced Temperature Control Unit calls for cooling one of the Peltier Devices is energized to cool a machined aluminum block. When not calling for cooling the other Peltier Device is energized to heat the aluminum block. This means my simulated cell tower machine room is either getting hotter or cooler – just like in the real world.
The big fan in the background blows room temperature air across the attached heat sink cooling fins. The little fans turn on and off with the associated Peltier Device.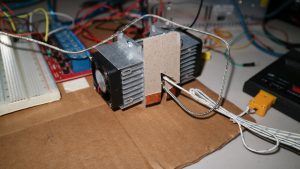 To simulate different cooling loads I've made different cardboard cutouts. This changes the amount of air moving across the cooling fins.
The wires in the middle are the temperature probes – one for the controller and one for an independent temperature measurement device.
---
Wikipedia contributors. (2018, June 6). Thermoelectric cooling. In Wikipedia, The Free Encyclopedia. Retrieved 22:07, June 23, 2018, from https://en.wikipedia.org/w/index.php?title=Thermoelectric_cooling&oldid=844732884